March 31, 2014 - Atlantic Wind and Solar Inc. - (OTC: AWSL) is pleased to report its financial results for fiscal year ending Dec 31, 2013.
Chairmans Address to Shareholders
... 2013 was milestone year for Atlantic Wind & Solar.
Atlantic, again set Company records in project development, in revenue recognition, and in the launch of new projects, all while decreasing expenses and improving productivity.

Atlantic more than doubled its sales from the previous year. In 2013, we recorded $3,913,217 in revenue attributed to the initial work on approximately 3 MWp of Feed-In-Tariff contracts (FIT) in Ontario, Canada. Approximately $6.0 million in additional revenues are expected to be recorded in 2014 for the balance of work on these projects.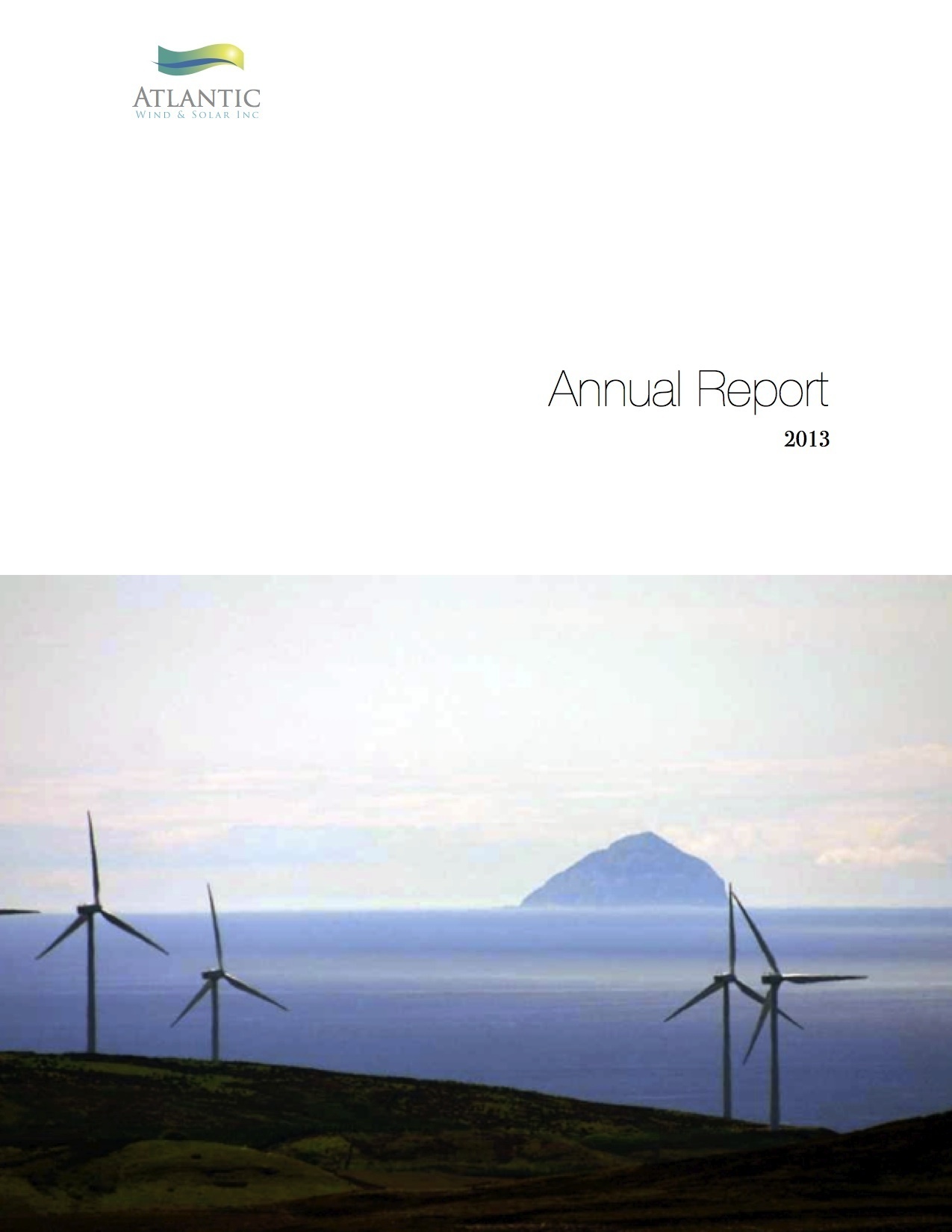 Profitability continued to improve significantly. Losses were almost non -existent at only $225,228, a 35% improvement from the previous year and down substantially from $2,700,000 three years earlier.

In the fourth quarter Atlantic was able to refinance almost 90% of its Preferred shares from 12% to 8% securing substantial savings going forward.

Atlantic continued to move its 25 MWp approved power plant project in Ecuador forward with the submission of the final system designs to CONELEC, the government's electricity regulatory authority. This 25 MWP is Phase 1 of the total 60 MWp approved under the country's Feed-In-Tariff program.

In Canada, Atlantic signed another power purchase agreement with the Ontario Power Authority ("OPA"") for a utility scale industrial rooftop installation of 320 KW. This represents Atlantic's 21st deal with the OPA in the past few years.

Management expresses its deep appreciation to its suppliers, affiliates, consultants, and co-workers, with a special thanks to its new Ecuadorian additions, plus all stakeholders as it looks forward to continuing to complete existing projects while striking swiftly at new opportunities in the Renewable Energy sector globally.

Sincerely,
Gilles A.Trahan
Chairman
Full Report
To view the full 2013 Annual report filed with OTCMarkets Click here.
About Atlantic Wind and Solar Inc:
About Atlantic Wind and Solar Inc: Atlantic is a developer of utility scale renewable energy plants with over 450 MW's of projects at various stages of development in Canada, South America and the Caribbean.
For stock quotes, charts and our financial filings and reports visit: http://www.otcmarkets.com/stock/AWSL/quot
SOURCE: Atlantic Wind & Solar Inc.
Disclaimer: Shareholders and investors are strongly cautioned against placing undue reliance on information set forth within this website and these communications in making any investment decisions concerning our securities. The matters set forth in this press release are forward-looking statements within the meaning of the "safe harbor" provisions of the Private Securities Litigation Reform Act of 1995. These forward-looking statements are subject to risks and uncertainties that may cause actual results to differ materially. These risks are detailed from time to time in the Company's periodic reports filed with the OTCMarkets.com including the company's Annual Report, Quarterly Reports and other periodic filings. These forward-looking statements speak only as of the date hereof. The Company disclaims any intent or obligation to update these forward-looking statements. Nothing within this site is meant to be a solicitation to buy or sell our securities. Investing in over the counter (OTC) securities often carries a high degree of risk. Please contact your financial advisor before investing in our securities.