Atlantic Wind and Solar Inc. –Tuesday , Jan 7, 2014 (OTC: AWSL) is pleased to announce the following update including progress reports and news of further cost reductions to enhance shareholder value.
Ontario - 101 PV Portfolio
The portfolio commenced construction in September 2013 and has seen 2 projects completed and awaiting COD confirmation from the Ontario Power Authority. The balance are at various stages nearing completion. While we anticipated completing all 12 projects in 2013 regrettably scheduling delays with roofing companies and a roofing strike in the area set us back. The Portfolio is expected to be completed substantially if not completely in Q1 2014.
COD - Commercial Operation Date - is a significant milestone not just because it represents project completion but because it is also the stage at which all cost calculations are finalized and the Company's payables and receivables netted. Up to this point both payables and receivables escalate at each stage of construction. At COD a project is complete and payables/receivables are netted such that financial statements now reflect that the project is in the past rather than still ongoing.
The utility scale projects, comprising 12 commercial buildings in Mississauga and Brampton in Ontario, represent 1.582 MW AC and approximately 1.9 MW DC peak.
Ontario - 102 PV Portfolio
Notice to Proceed was obtained from the Ontario Power Authority in November and construction is being scheduled for Q1 on 130kW with the remaining megawatt expected to follow shortly.
These utility scale projects, comprising 4 large commercial installations in Mississauga and Milton in Ontario, represent 1.130 MW AC and approximately 1.35 MW DC peak.
Ecuador Phase One 20 MW AC / 25 DC
Atlantic submitted the final utility scale system design to CONELEC in early December and awaits final notice to proceed. Land preparation is scheduled for January 2014 with the project expected to be commercially operating by Dec 31, 2014.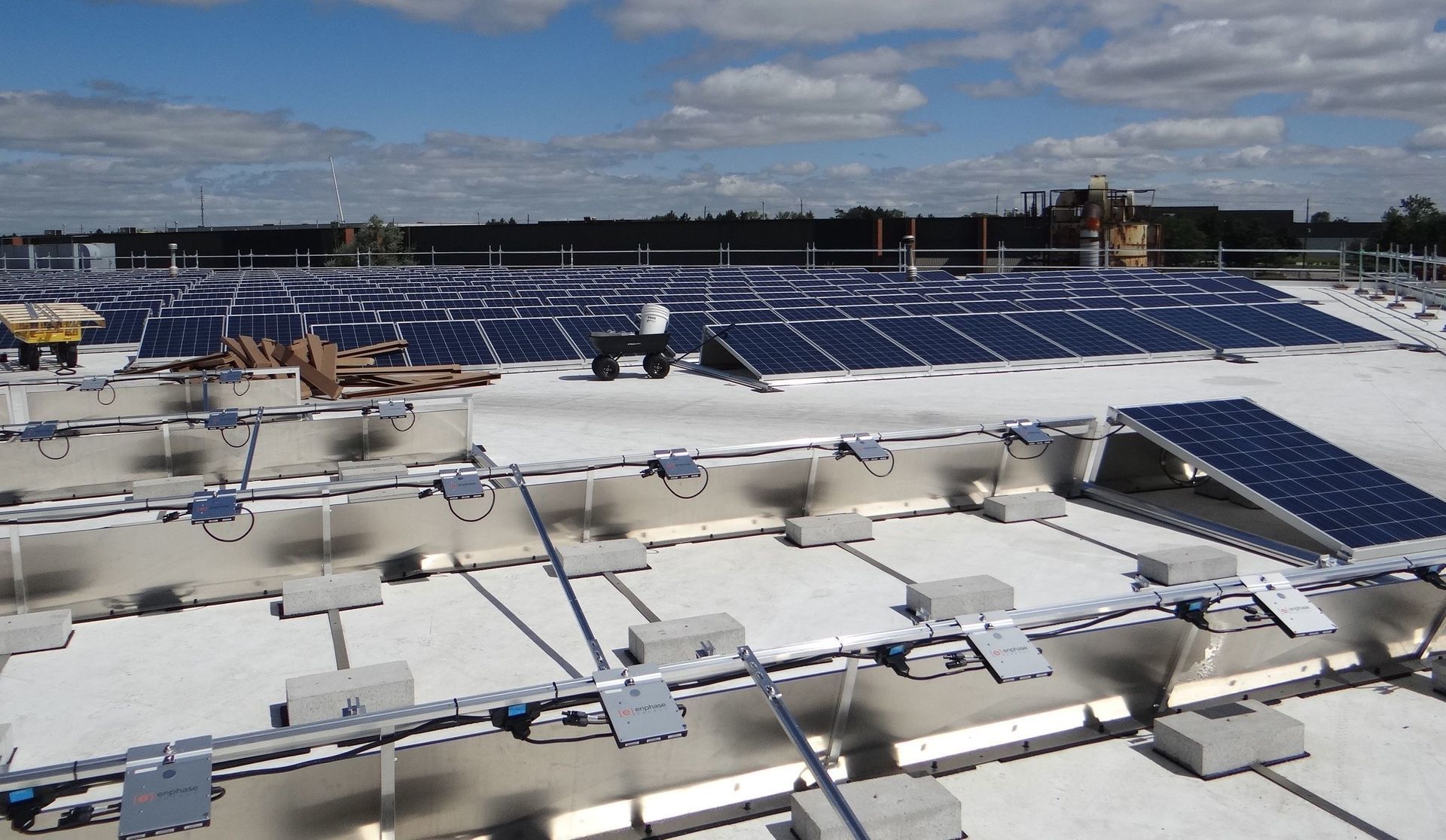 Further reduction in operating costs
In Q4 management continued its push toward lower operating costs. Senior Management will be swapping approximately $4.8 million Series A 12% Preferred Shares into Series B 8% non convertible Preferred Shares. The net affect will be a savings of nearly $200,000 in interest annually. In addition management will move to a more project based compensation system whereby salaries are reduced on an annual basis in exchange for potential bonus payments based on projects reaching commercial operation. This better fits the Atlantic long-term business model and allows the company to match payables with receivables plus link management compensation to profitability rather than time. Together these restructuring moves will reduce annual expenses by nearly $600,000.
Back in Black
With Q4's revenues, plus the Q1 revenues from the projects in their final stages, and the cost reductions mentioned above Atlantic anticipates the elimination of losses imminently. With losses steadily decreasing from 2009s loss of nearly $2.7 million to 2012's loss of less than $350 thousand Atlantic, in a turnaround that would be seen as swift in most markets, expects to report profits in the very near future.
Atlantic's additional pipeline in Ontario
The Company continues to secure new projects in Ontario and taking steps to make further applications into the OPA FIT program.
About Atlantic Wind and Solar Inc:
Atlantic is a developer of utility scale renewable energy plants. With over 350 MW's of projects at various stages of development in Canada, South America and the Caribbean.
For more information and/or to subscribe for regular news updates from Atlantic Wind & Solar visit: www.atlanticwindandsolar.com
For stock quotes, charts and our financial filings and reports visit: http://www.otcmarkets.com/stock/AWSL/quot
(Photos by Atlantic Wind & Solar of SPE 101 portfolio construction in Ontario)
SOURCE: Atlantic Wind & Solar Inc.
Disclaimer: Shareholders and investors are strongly cautioned against placing undue reliance on information set forth within this website and these communications in making any investment decisions concerning our securities. The matters set forth in this press release are forward-looking statements within the meaning of the "safe harbor" provisions of the Private Securities Litigation Reform Act of 1995. These forward-looking statements are subject to risks and uncertainties that may cause actual results to differ materially. These risks are detailed from time to time in the Company's periodic reports filed with the OTCMarkets.com including the company's Annual Report, Quarterly Reports and other periodic filings. These forward-looking statements speak only as of the date hereof. The Company disclaims any intent or obligation to update these forward-looking statements. Nothing within this site is meant to be a solicitation to buy or sell our securities. Investing in over the counter (OTC) securities often carries a high degree of risk. Please contact your financial advisor before investing in our securities.