May 25, 2013
Tonchigue, Ecuador, Atlantic Wind & Solar (OTC: AWSL) was very pleased with the turnout at Tuesday's town hall meeting in Tonchigue, Esmeraldas . Attendance was much greater than expected in an almost overwhelming display of support. We offer our thanks to the wonderful people of the province of Esmeraldas for this reception and acceptance!
Thanks to the Town Board's President, Vice President, members, and residents; to the Municipality's Councillors, Environmental Management; to the representatives of the press Canalstar and CNEL Esmeraldas' Department of Planning, Senior Management, and Directors; to the Ministry of Environment, the National Police, the Fire Department, to the Authorities of Agricultural, Fishing, Livestock, and Crafts; and to all the people whose positive efforts contributed to pushing forward to the completion of these photovoltaic projects thus promoting the care of the environment through the production of clean and renewable energy.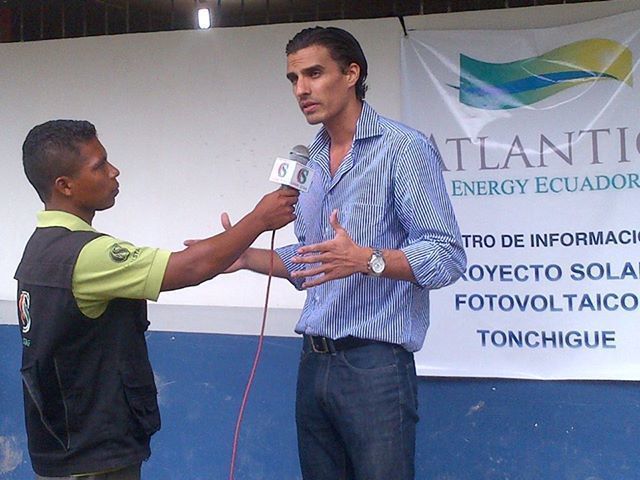 Looking Ahead - Construction - Ontario
Additional Notice To Proceed (NTP'S) are expected over the coming weeks. Management looks forward to announcing updates on construction and on the development of our renewable energy pipeline in Ontario and abroad.
Keep current with our progress by joining our mailing list. Visit the company's web site, at: www.AtlanticWindandSolar.com
SOURCE Atlantic Wind & Solar Inc.
Disclaimer: Shareholders and investors are strongly cautioned against placing undue reliance on information set forth within this website and these communications in making any investment decisions concerning our securities. The matters set forth in this press release are forward-looking statements within the meaning of the "safe harbor" provisions of the Private Securities Litigation Reform Act of 1995. These forward-looking statements are subject to risks and uncertainties that may cause actual results to differ materially. These risks are detailed from time to time in the Company's periodic reports filed with the OTCMarkets.com including the company's Annual Report, Quarterly Reports and other periodic filings. These forward-looking statements speak only as of the date hereof. The Company disclaims any intent or obligation to update these forward-looking statements. Nothing within this site is meant to be a solicitation to buy or sell our securities. Investing in over the counter (OTC) securities often carries a high degree of risk. Please contact your financial advisor before investing in our securities.